White Chocolate Raspberry Cheesecake w/ Oreo Crust.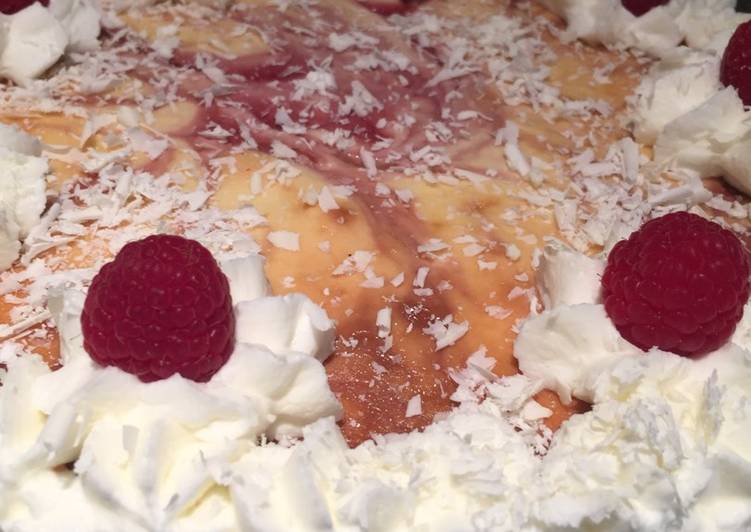 You can have White Chocolate Raspberry Cheesecake w/ Oreo Crust using 17 ingredients and 23 steps. Here is how you achieve that.
Ingredients of White Chocolate Raspberry Cheesecake w/ Oreo Crust
Prepare of CRUST ⬇️(using a SPRING FORM PAN).
It's 1 Box of Oreos.
Prepare 1/3 cup of Butter.
It's of FOR RASPBERRY SAUCE ⬇️.
Prepare 10 oz of fresh raspberries.
You need 1/3 cup of sugar.
It's 2 tablespoons of lemon juice.
You need of FILLING⬇️.
You need 4-8 oz of cream cheese (room temp).
Prepare 1/4 cup of sugar.
Prepare 1/2 cup of sour cream (room temp).
It's 2 teaspoon of vanilla extract.
Prepare 5 of eggs (room temp).
Prepare 4 oz of Shaved white chocolate (optional).
You need of FOR GARNISH⬇️ (optional ).
Prepare 1 cup of heavy whipping cream.
It's 1/2 cup of powdered sugar.
White Chocolate Raspberry Cheesecake w/ Oreo Crust instructions
Preheat oven to 475°F. 5 mins before completing the filling , fill oven safe skillet with 1/2 inch of water. This is for the water bath.
Remove filling from Oreos then crush the Oreos in blender for fine consistency..
Add melted butter to Oreos. Press down Oreos on a lined spring form pan with hand or glass..
Freeze until filling is complete.
Add most of raspberries to a saucepan (saving a few for garnish) and stir with sugar and lemon juice until raspberries break down.
Strain raspberries. Set Aside to cool..
Add water bath to oven.
Add cream cheese, sugar, sour cream.
Blend until smooth.
Add eggs one at a time. Incorporate egg completely before adding the next.
Add vanilla.
Remove crust from freezer and sprinkle white chocolate at the bottom before adding filling.
Add SOME filling, then add SOME raspberry sauce. Use knife to swirl around..
Add more filling then add more raspberry sauce. Swirl with knife..
Repeat until you fill your pan.
Place foil under your pan to be sure water doesn't leak through during water bath.
Bake on 475°F for 10 mins.
Bring temperature down to 375°F and continue baking for 5 mins.
Remove from water bath after 5 mins.
Bake until LIGHTLY browned. Turn off oven and let cheesecake sit for 1 hour then remove.
Wrap with plastic then refrigerate 5 hours.
Remove plastic then Garnish😉.
.