Lasagna Mexicana. Analiza ingredientelor rețetei Lasagna mexicană: Boia dulce. Publix Aprons Simple Meals suggests Lasagna Mexicana. To print the full recipe, click here.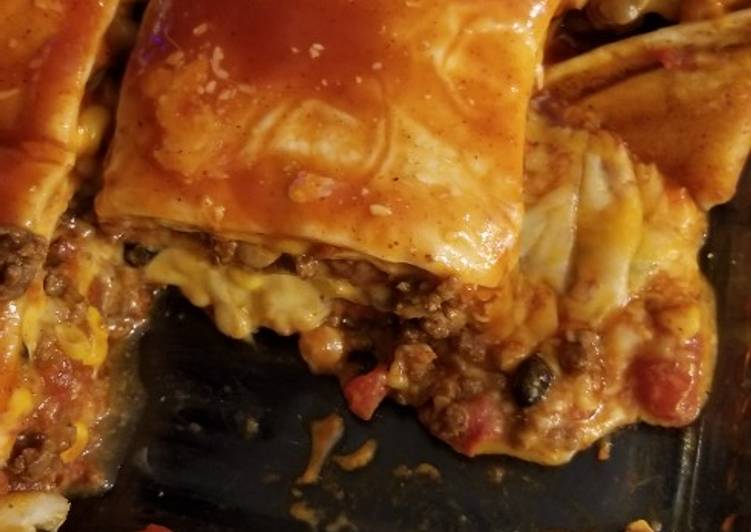 Mexican lasagna makes great leftovers, too! You can even serve it with eggs for breakfast. Like traditional lasagna, this casserole also freezes. You can cook Lasagna Mexicana using 9 ingredients and 7 steps. Here is how you cook that.
Ingredients of Lasagna Mexicana
Prepare 1 lb of ground beef.
You need 6-8 oz of guacamole.
It's 10-12 oz of bag frozen southwest blend vegetables.
It's 8 oz of Mexican shredded cheese.
Prepare 10 oz of can enchilada sauce.
You need 1/2 cup of salsa con queso.
You need 5 (10 inch) of flour tortillas.
You need 14.5 oz of can diced tomatoes.
You need 1 oz of taco seasoning.
My whole family loves this beefy lasagna flavored with taco seasoning. Even my picky five-year-old will eat it. Serve with shredded lettuce, fresh sliced tomatoes, olives and sour cream. I collect cookbooks and recipes (this one is from my son's mother-in-law).
Lasagna Mexicana instructions
Preheat oven to 400 and coat 9in square baking dish.
Brown beef and drain, add taco seasoning and 1 cup tomatoes.
Cook vegetables until hot, stir in salsa con queso until hot..
Spread 1/2 cup enchilada sauce on bottom of pan, top with 1 tortilla, 1/4 cup cheese then 1 1/2 cup meat mixture. Place another tortilla topped with 1/4 cup cheese and 1 cup vegetables. Repeat layers.
Top with remaining tortilla, 3/4 cup enchilada sauce, 1/2 cup tomatoes and a cup cheese..
Cover with foil and bake 30 minutes.
Remove foil, bake 10 more minutes. Let stand 10 minutes. Top with guacamole and serve..
My husband teases me that I won't live long enough to try half of the recipes in my files! This vegetarian Mexican lasagna is the ultimate healthy dinner recipe! Layered with lasagna noodles, corn, and black beans, it's full of zesty flavor. Enjoy this delicious Mexican lasagna Mexican recipe! Let your lasagna go Mexican by layering ground beef and sausage with corn tortillas, tomatoes, green chiles, enchilada sauce, and cheese.