Chicken Stuffing Casserole.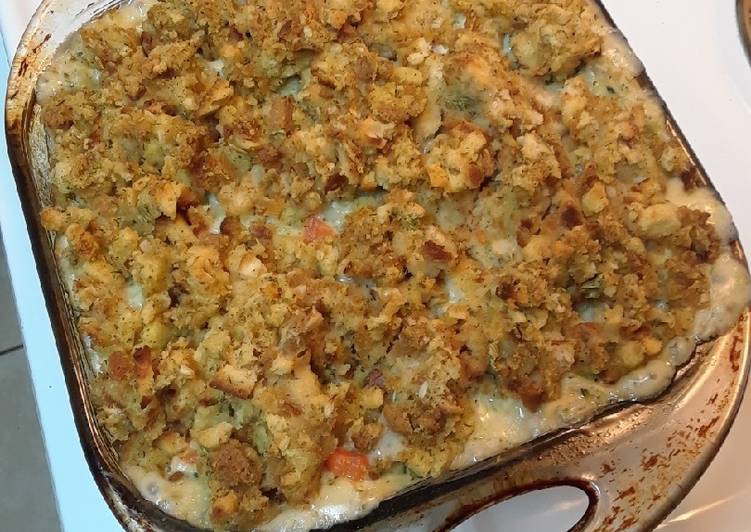 You can cook Chicken Stuffing Casserole using 17 ingredients and 3 steps. Here is how you cook it.
Ingredients of Chicken Stuffing Casserole
Prepare 2 cups of shredded chicken.
It's 1 cup of diced carrots.
It's 1 cup of small broccoli florets.
Prepare 4 tbsp. of unsalted butter.
You need 1/2 of yellow onion, finely diced.
It's 1/2 cup of finely diced mushrooms.
You need 1 of small stalk celery, finely diced.
It's 1 clove of garlic, minced.
You need 1/4 cup of all purpose flour.
You need 1 1/2 cup of unsalted chicken broth.
It's 1/2 cup of milk.
Prepare 1/2 tsp. of salt.
You need 1/4 tsp. of pepper.
Prepare 1/4 tsp. of salt free all purpose seasoning.
You need 1/4 cup of sour cream.
Prepare 1/2 cup of shredded white cheddar cheese.
It's 2 boxes of stuffing, prepared.
Chicken Stuffing Casserole instructions
Preheat the oven to 350°F. Grease a 9×9" baking pan and set it aside. Heat the butter in a medium pan over medium heat. Once it's melted, add the onion, celery, mushrooms and garlic and cook, stirring often, until the veggies are softened, about 5 minutes. Then sprinkle the flour over and stir it in well. Cook and stir another minute or so. Increase the heat to med-high..
Slowly pour in the broth and milk while stirring until it is all incorporated, then stir in the seasoning. Let it come up to a low boil, then lower the heat back down to med-low and let the mixture simmer until it's thickened and coats the back of a spoon. Once it's done, remove the pan from the heat and stir in the sour cream. While the sauce is simmering, go ahead and either steam or boil the carrots and broccoli until tender..
Mix together the chicken, veggies, cheese and sauce. Spread half of the stuffing in the baking pan, then pour the chicken and veggie mixture evenly over the top. Spread the remaining stuffing over the top. Bake uncovered for 20 or so minutes, until the top has crisped up a bit and everything is up to temperature. Let it sit for about 5 minutes or so, then serve..